Interested in the our beautiful historic location for your next event?
Bar 1903 is available for limited rental! Check out our information below to see if your next event is the right fit for our stunning restaurant!
Bar 1903 is not available for rental on Christmas Eve, Christmas Day, New Year's Eve, or New Year's Day.
Capacity:
Bar 1903 can accommodate groups of 20-36 guests. Please note that we cannot accommodate any groups that are under 20 or larger than 36 people.
If you are interested in an event venue or a space that can accommodate groups between 30-75 guests, check out our private event space at Liberty Bar and Restaurant!
Availability:
Bar 1903 is available for events with start times no earlier than 5:00 PM EST. Bar 1903 is not available for morning or afternoon events. Bar 1903 is available for for rent in blocks from 5:00-8:00 PM or for events from 5:00PM-Close.
Bookings of Bar 1903 are available for full and semi – private rentals. Please reference our chart below for pricing. To inquire about available dates, please email our event manager at the address below!
Policies of Note
BOOKING NOTICE:
We require a minimum of two weeks notice prior to booking any event. This is a for a number of reasons, some of which include providing us with adequate time to schedule the necessary staff, time to advertise the closure to the public, and plenty of time to sort out the details for your event! Inquiries with less than two weeks notice can not be accommodated.
PURCHSE MINIMUM:
Please note that Bar 1903 does have a food and beverage purchase minimum which may fluctuate depending on the day of the week and time of year.
Please note that ALL purchases made for the duration of the event must be made on one form of hosted payment and individual tabs are not authorized during the event. All purchase minimums must be met prior to and are subject to taxes and a 22% service fee. If the purchase minimum is not met during the event, the remainder will be charged to the card on file associated with the hosted payment.
OUTSIDE VENDORS:
All outside vendors are prohibited at all of our locations. Outside vendors and services are not authorized on premise.
ALTERATIONS TO THE SPACE:
Please note that Bar 1903 is a bar first and is privately rented second. Given the limited space and historical element to our building, we are unable to alter the seating arrangements within the bar. We also do not authorize outside décor or vendors within our restaurant in an effort to preserve our beautiful and unique building. We know this may limit our ability to accommodate your next event, but it is also what makes us so unique and the perfect fit for that niche group!
Rental Rates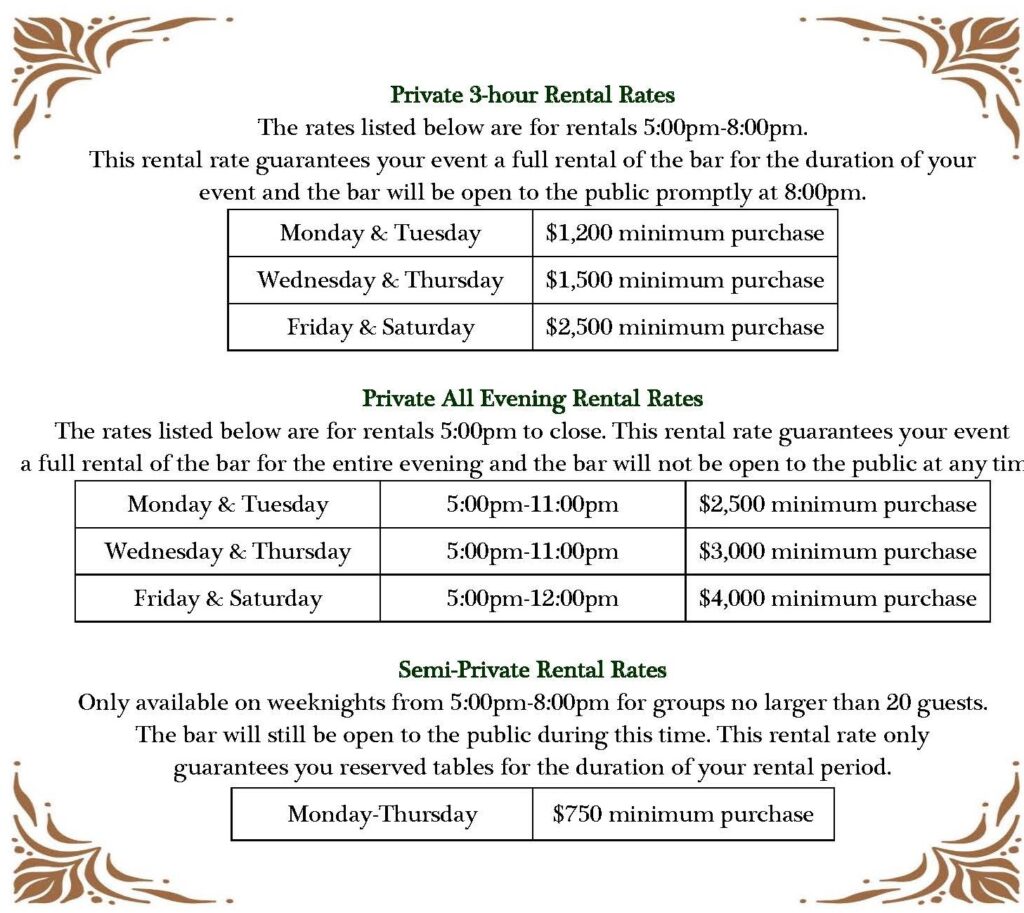 Book Your Next Event
Contact our event coordinators for availability at the link below