HOW PRE-ORDERING WORKS
All of our breads & bakery goods are now available in a new pre-ordering platform for contactless delivery/ pickup! Follow the link below to place your pre-order, Sunday 8am through Wednesday 5pm. You will have the option for pickup on Friday or Saturday 4pm-9pm or delivery on Saturday between 12pm and 3pm.
If you would like your delivery at a certain time on Saturday between 12pm or 3pm, please include that in the notes of your order. We will try our best to accommodate all requests to the best of our ability.
At the same time, if you wish to pick up dinner on Friday or Saturday along with your bakery pre-order, let us know in the notes section and we'll bring out both orders together for you.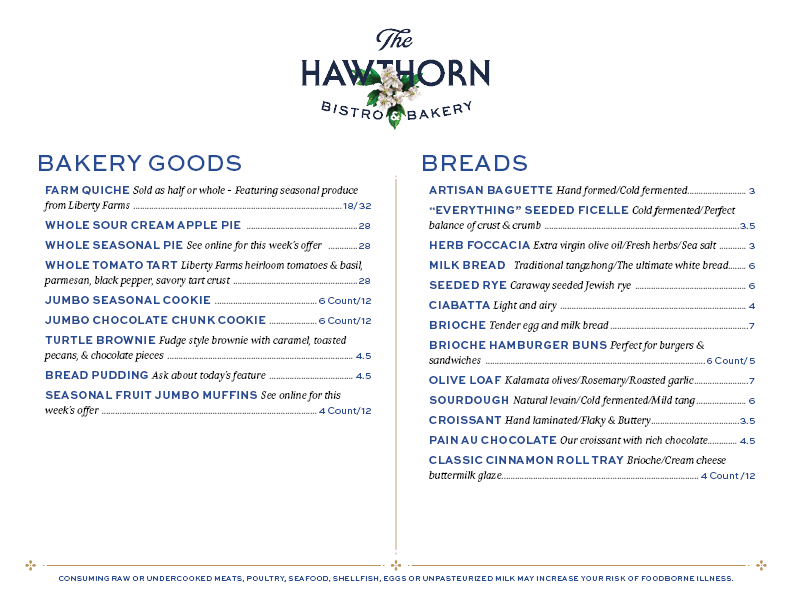 WHY THE CHANGE?
During this tough time of uncertainty, we as a team have had to make every effort to adapt to the constantly evolving situation. Taking example from some of the best bakeries in the country, we will move to an online pre-ordering system that will allow us to maintain our standard of freshness and quality. We've created a new online ordering system just for our breads & baked goods. Now you can log on to order Sunday-Wednesday to stock up for the weekend and the following week. We'll be offering the option of contactless delivery right to your home on Saturdays, 12pm-3pm. You can also choose curbside pickup at Hawthorn for either Friday or Saturday, 4pm-9pm. This system will help us maintain safety for us and the guest, and also ensure peak efficiency when the margin for error is as thin as it could possibly be. We're hoping that you understand and continue to support us by pre-ordering your weekly bread and other baked goods.
Thank you Tallahassee, from us, and all of the Seven Hills Hospitality Group, for your continued support and adapting to the changes we've had to implement so far during this crisis.